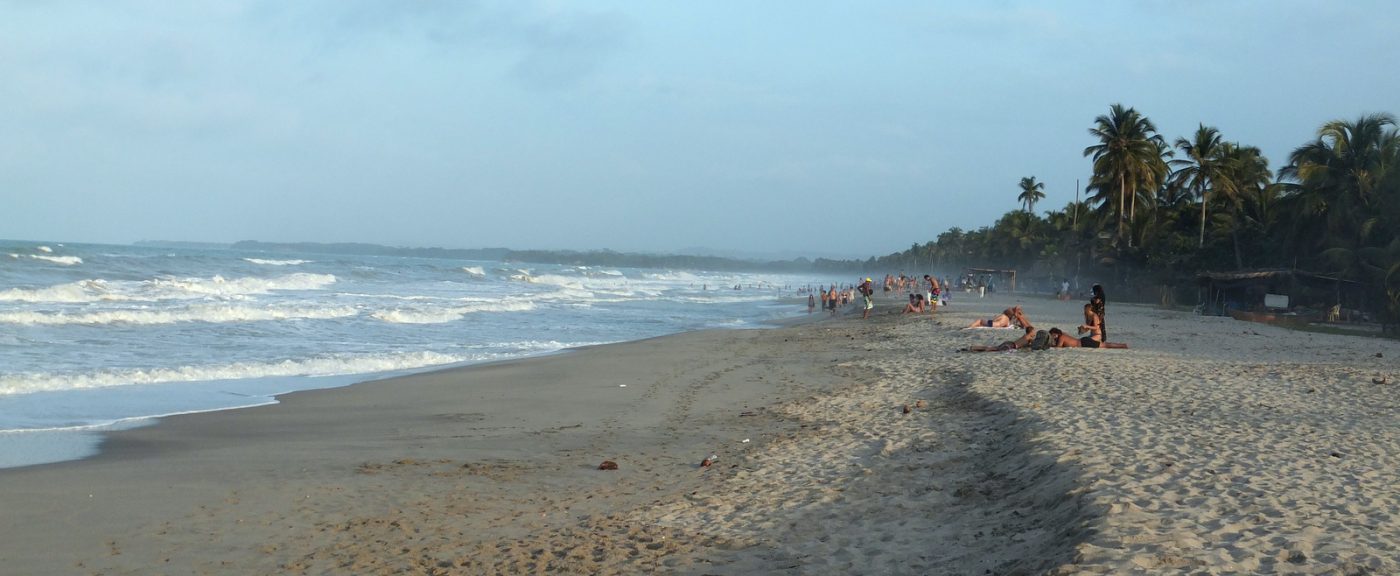 First days of 2015, first steps in South America, first visit to Colombia … what a great bunch of 'firsts'! My friend Isabelle ('Isa') joins me for a 15-day ladies' trek along the Caribbean Coast, from Cartagena to the Guajira Peninsula, by way of the incredible national park of Tayrona … all of this with the added benefit of a short little 'hotel business' mission at the La Sirena Eco-Hotel (in Palomino).16
Cartagena, a Very Warm Welcome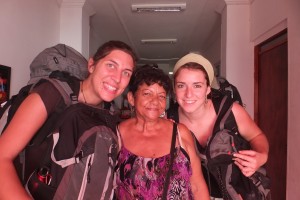 Back in 2010, I worked as a waitress for 6 months in a hotel in the south of New Zealand (see my blog  "Flo Chez les Kiwis" (traduction? "Flo and the Kiwis"). At the time, I met Julian, a Colombian, and we worked together for all of one month. When I contacted him to put up my friend Isa who was landing in Bogota on January 2, and even though he wasn't home at that time, Julian did everything so that his family could take her in. Julian is a sweetie, and he writes to us each day to make sure that everything is going well and to pass on suggestions.
In the same spirit, during all those first days, we were lucky enough to meet one person after another each more generous and thoughtful than the first; for example:
Carlos, a « friend of Julian's sister's boyfriend's brother » invited us to sleep at his home in Cartagena (see above a photo with his mother).
The owner of a recently opened café (Café del Mural) invited us to a « tasting » of 'experimental' coffees, and to join him on a night walk through the old city with a writer-historian friend of his (Federico Herrera) who tells us the 'story' of the mysterious Cartagena.
Cartagena is a brilliant mix of old and new, a rather pleasant city really, but one which we leave as quickly as we can in order to find the tranquility of nature …
Learning to Sleep in a Hammock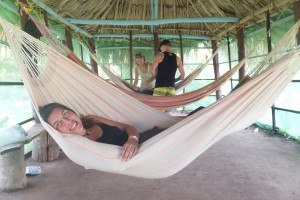 We find a couchsurfer host in a little village called Taganga, next to Santa Marta. Great! … well finally this turns out to be a bad idea … the host is not a bad guy but he plays the "we sleep in hammocks" card: "Oops, the hammock is broken, so shall we share the bed?". The young man makes us feel sort of uncomfortable and so the next day we decide to find an inn, and then to go to another village and another beach: Palomino.
So we spend the following five nights in hammocks. It's not so bad; we have become pros at this point; we can control the 'angled' position, and each night we sleep a little better than the last!
This is the most touristic area of Colombia and we arrive in full high season (summer holidays for Colombians, but also for Argentinians who come here in droves). However, I am able to find a mini-business mission at the very last minute (the shortest in the entire Hospitality Tour: only one day and one night). Once more, there are no vacancies at the Sirena Eco-Hotel so they offer us two hammocks (see the article on the hotel on Hopineo's website). It turns out to be a very intense business stop; you just cannot do the maximum in only one day! But that is my fault. The hotel suggests that we stay longer, but we are dying to visit the magic Park of Tayrona …
Tayrona Park, 48 hours of total disconnect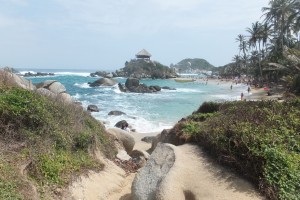 The spot will simply take your breath away; nature at its wildest and most beautiful. The sea is rather rough and so swimming is forbidden on most beaches. Isa and I take a long walk, talking over these past six months spent without each other. So much has happened to each of us (Isa is a nurse with Doctors Without Borders in Central Africa). Analysing our past, imagining our future … we are sort of disconnected from time at Tayrona Park. Together we practice our Spanish with a few Colombians, Argentinians … and Germans we met on the way.
We decided to return on horseback, with our big backpacks; you can say it was rather athletic … but this made it possible for us to go through paths which were even more untamed, and we just loved the adrenalin rush as we galloped through the tropical forest!! Sometimes I think I would like to have my own horse. Maybe when I go back to live in Panama?! And I could once again go galloping along the beach … ha, ha, ha! … I often think back to the past month and a half I spent in Panama; I was beginning to feel at home there. However, I am now in actual fact in Colombia, and more than ever I am continuing my adventure through unexplored lands!
After the Colombian Caribbean Coast, here we are, one night in a bus later, at Bucaramangua, in the Santander Region, where the high reaches of Cocuy await us … there is going to be some sporty fun!
A few photos:
A few videos: