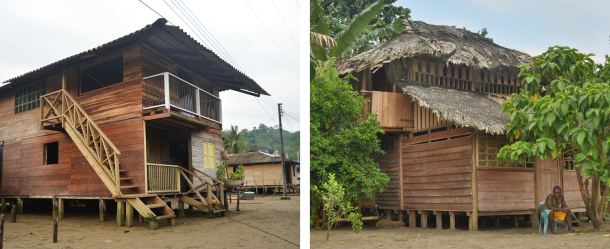 It was aboard a local fisherman's small boat that I reached the village of Jurubidá, located thirty minutes north of Nuquí, an "Afrochocoano" village because Jurubidá is primarily a "palenque" (a community founded by African slaves who managed to escape and take refuge in the dense rainforests of the Chocó Region). I am greeted at Carmen's, then at Nohelia's, for a short stop before moving on to Utría National Park.
Just like home at Carmen's (and her little girl Carlina)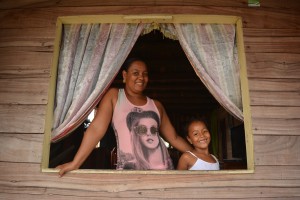 Organizing and communicating during my stays is not always so simple: often there is no Internet connection, or else only a very 'iffy' mobile network, and my schedule is so very dependent on local logistics and boats whose timetables are much more difficult to trust during the slow season.  Since I usually do not want to pay full-fare for private transportation, I had found my boat ride by chit-chatting with people on the pier, looking for a way across, and in the end there is always a solution to be found that way.  Unfortunately, I learned upon my landing (late) that Carmen had been waiting for me since Sunday (we were already Tuesday), so I guess she was not waiting for me anymore! We were both so sorry!  She apologized because lunch was not ready when I arrived. I tried to make her understand that she really need not have worried, and that I wished she could treat me as a colleague and not like a customer.  I told her I was quite flexible and could eat like she did, but it did not matter since she wanted me to see her at her best and so she busied herself in the kitchen.
That is just the way Carmen is: always putting small dishes into large platters to make her customers feel welcome and part of the family. I met her little 7 year-old daughter, Carlina; so super cute! I soon felt right at home: her house was well kept, and I had my own room on the second floor (added less than 6 months ago). Everything was made of wood and nicely arranged. Carmen being a single mother with a second daughter studying in Medellin, revenue generated by renting her guest rooms is her primarily method of providing a good education for her two daughters. I invite you to discover her place and meet Carmen (in video) through the article I published on Hopineo: Posada Jurubidá, Donde Carmen, Colombia.
Her house is in the heart of the village, at the edge of the river. The village of Jurubidá is actually an island since there is a beach on one side, and on the other sides two rivers flowing into the ocean; a passage was dug in the back between the two rivers so that they could join up.
A Rooming House owned by Nohelia the Teacher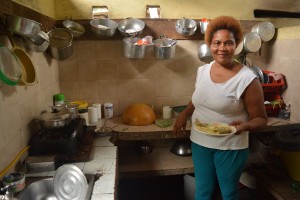 The plan was for me to spend a night at Carmen's and then a night at her aunt Nohelia's, who also takes in travelers in a cabin on the beach that she built with her husband. However I preferred to spend both nights at Carmen's since the thought of finding myself all alone in a cabin on the beach did not sound like much fun. I decided instead to have lunch and dinner at Nohelia's, who is a teacher (among 10 others) at the village school.
I was able to get more details about Chocó's tumultuous history, in particular the creation of its "palenques" where its ancestors sought refuge. They were victims of the African slave trade who managed to escape and create communities where they could live in freedom far from the cities. Moreover, these "Afro" communities sometimes mixed in with indigenous communities who also took refuge in the depths of tropical forests in order to escape Spanish colonists.
Nohelia called her posada (rooming house) "Emberafro" referring precisely to this cultural mix "Ember" (an indigenous tribe) and "African". I took advantage of my stay there to spend time editing a video on Nohelia and her posada; you can see it on Hopineo: Posada Emberafro, Jurubidá, Colombia.
A Regional Problem: a Responsible Sanitation Management System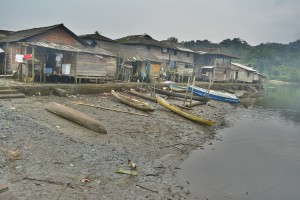 For the past few years already, Jurubidá has been equipped with septic tanks to manage black waters (from toilets) responsibly. As to gray waters (kitchen, showers … ), they end up feeding the fish in the nearby river; it is not the ideal situation but they don't really pollute either—it is just necessary to avoid bathing behind the houses!
Organic waste becomes food for chickens, pigs, dogs … or is even at times composted to fertilize each person's vegetable patch. For other types of waste (plastic, metal , glass …) , that's another story. This is not just an isolated problem with Jurubidá: it is a regional problem. There is currently no collection nor waste recycling system. The inhabitants are therefore forced to bury those materials (on the beach … ) or burn them … So the best practice still remains to try, at the start, to reduce the purchasing of packaged products so as to limit the damage. At Mano Cambiada, the Lodge where I am going next, and which is part of the Utría National Park, they fill empty oil bottles with plastic trash, and suggest to those tourists who are willing that they take them back with them to Medellin. In this case, the more tourists there are, the better their waste management!!! (ha-ha-ha!!!!!  So different from the usual problems, right? …)  So are you following me to Utría ?
Translated by my friend Helene Masson